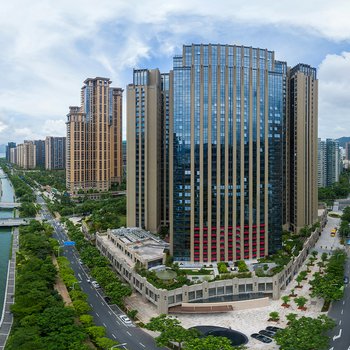 The Mumian Hotel locates at No. 5, 3rd Street of AnWan, Nanshan District, adjacent to Shenzhen Bay Super Headquarters Base, Haiyue Station of Metro Line 2, Baoneng Taigucheng Shopping Center. It also at the core of Guangdong, Hong Kong and Macao 1-hour life circle. It cost about 10 minutes' drive from Shenzhen Bay Port and Shenzhen Bay Talent Park, about 20 minutes' drive from Shekou Wharf, and about 30 minutes from Shenzhen and Hong Kong airports. Metro lines are available to all tourist attractions such as Window of the World, Happy Valley and Sea World.
The Mumian Hotel is designed by international master Mr. TONY CHI, the general consultant and brand creative director. He combines humanities, light industrial style as main element, with the connotation of "Neighborhood Center" commercial brand, and strives to create a simple, comfortable, warm, natural, light and luxurious high-end boutique hotel. Rooms have super large bathrooms, high quality bedclothes and toiletries, which greatly enhance the comfort of accommodation. High-rise service apartments are equipped with complete kitchen and electrical facilities, providing daily, short and long-term rental services. The hotel room is situated in an open bay view, creating a warm and comfortable accommodation environment for travelers all over the world.
The lobby is 9.4 meters high with tall bookshelves and floor latticed windows. Exquisite white porcelain lamps embellishing this classical European library. The lobby is equipped with a coffee shop, guests can enjoy the good sensory experience by reading books and enjoying coffee in their leisure time. The third floor is Kapok Restaurant with delicate northeastern cuisine. It is an upgraded version of Xiaonanyang Restaurant, warm and elegant. The flowing water of the pavilion in the aerial garden can relax and delight our guests. The self-service gymnasium on the fourth floor is well equipped. When exercising, you can enjoy the outdoor scenery through the landing window, unload the troubles of the city.